Tammy
Owner
---
Tammy is originally from New York. She grew up surrounded by great cooks and her house was where everybody gathered for great homemade Polish food! She moved to North Carolina in 1993 with IBM and has become a true Southern girl. She left IBM shortly after the birth of her two children, Kayleigh and Joey . When she's not at the studio, you can find her at a soccer field, the library, walking her dog (Chloe), volunteering at her children's school or entertaining at home. Favorite ingredient to use: Butter. Favorite food to make: Chicken Enchiladas. Favorite dessert: Homemade Chocolate Chip Cookies with a tall glass of Milk. Favorite kitchen scent: Fresh baked cookies! Favorite Food Network Chef: The Pioneer Woman.
---
Mike
Owner/Manager
---
Mike grew up in Apex, and started to learn how to cook some simple things in high school. While he attended Appalachian State University, Mike and his roommates would collectively cook a meal once a week. They named it "Italian Tuesdays" because they mostly cooked Italian foods and it generally occurred on Tuesdays. Mike enjoys seeing kids learning to cook at a young age. "Cooking is a great skill to have for anyone at any age," he says. "There is a ton of variety in cooking and it's the best way to ensure that you eat healthy." Favorite ingredient to use: Almost anything that includes Noodles. Favorite food to make: Chicken Alfredo. Favorite dessert: Brownies. Favorite kitchen scent: Chocolate Chip Cookies baking. Favorite Food Network Chef: Guy Fieri.
---
Kerry Smith
Weekend and Evening Class and Party Manager
---
Kerry has always enjoyed cooking and experimenting with her food. After living in Guatemala for two years, she found some great flavors and textures that she never knew about and misses a lot. Kerry loves to try different fruits and veggies I've never heard of. She loves to work at Flour Power because little chefs are always excited to try something new and challenging. She loves to watch young chefs grate cheese for the first time, or see how some of them didn't know they liked certain things. Their excitement makes her excited to be a part of their experience. Plus, its fun!! Favorite ingredient to use: Coconut or chocolate. Favorite food to make: Thai peanut shrimp. Favorite dessert: Tiramisu. Favorite kitchen scent: Sauteed garlic and peppers. Favorite Food Network Chef: Alton Brown
---
Brad
Evening and Weekend Class and Party instructor
---
I grew up in Jacksonville, Florida and learned how to cook from my Grandmother, Mom, and the Boy Scouts as an Eagle Scout in the outdoors. I love learning how to cook new dishes and trying new recipes! I have a wide range of dishes I love to prepare from healthy dishes to comfort foods. My background as a teacher makes me love working with kids and seeing the learning process take place wither it's in the traditional setting in a classroom or in our cooking studio. I love seeing our little chefs at Flour Power learn how to cook dishes from scratch. As a teacher during the week, I also love seeing the little chef's light bulbs go off when it comes to cooking. I really love seeing their creative side come out in the kitchen. My favorite ingredient to use is chocolate because it is sweet and can be added to make dishes rich and flavorful. A favorite dish to make right now is fiesta lime chicken tacos with rice. My favorite dessert to make my grandmother's homemade cheesecake. My favorite kitchen scent is cinnamon. My favorite food show is Chopped.
---
Jamie
Evening and Weekend Class and Party instructor
---
Jamie is a North Carolina native who grew up in Montgomery County and moved to Raleigh/Durham after graduating from East Carolina University. Jamie's grandmother was an exceptional Southern cook, and Jamie grew up with her mother making breakfast and dinner for her family every day. With the best of intentions, Jamie's mother told her to "stay out of the kitchen until you have to learn to cook". Jamie has learned that even trying vegetarianism without knowing how to cook doesn't turn out to be very healthy. Jamie is amazed at the process of creating something delicious and beautiful and not very expensive from a variety of ingredients. She is here to help children learn early on the fun and value of cooking – and to learn some things herself! Jamie has a degree in Elementary Education, and though she has worked in office settings for many years, she has also been a camp counselor and a school teacher. Jamie loves interacting with children of all ages, and the creative things they do and say. Jamie's favorite ingredient to use is ground black pepper. Her favorite food to make is Crock-Pot chicken and stuffing. Jamie's favorite dessert to make is chess pie. Her favorite kitchen scents are anything that smell like "home-cooking" – meats, cheeses, butter, vanilla. Jamie's favorite chef is yet to be determined. She's on the lookout for a favorite – so it could be you!
---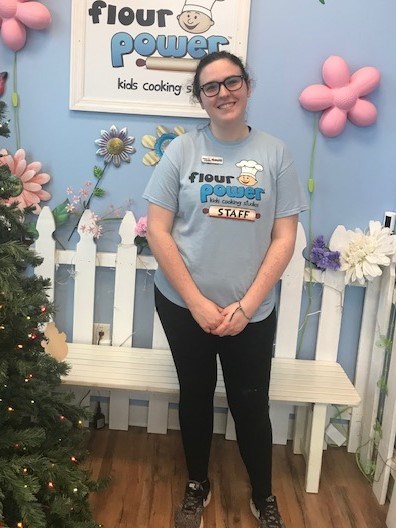 Meredith
Camp Instructor
---
I'm originally from Stoneville, NC. I learned how to cook mainly through my dad and grandma, especially southern comfort food! I love working with the little chefs at Flour Power! They're always teaching me something new about cooking and how to remain cool under pressure when a recipe doesn't turn out how planned. My favorite ingredient is cheese (of course), my favorite food is mac and cheese, and my favorite dessert is chocolate chip cookies! My favorite kitchen scent is freshly baked biscuits. My favorite food network chef is either Alton Brown or Guy Fieri!
---